Today is my final day with Sarah, sadly. I've had such an amazing trip out to Portland, complete thanks to her. Next time she's in my neck of the woods, I'll have to return the favor in full. I've already thought of some great places to take her, she's just got to rack up the necessary vacation days!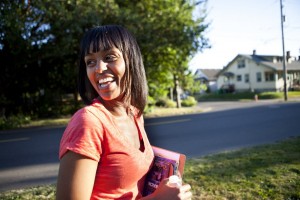 Meanwhile, this morning, Sarah took me where she works which just so happens to be the Nike Factory! She gave me from free swag and I got an excellent discount that persuaded me into purchasing a new pair of running shoes. I'd love to hit the concrete at least once before my return flight, still have a few days to do it.
So although I have some pretty awesome gear to bring home with me, Sarah will be busy with work related things for the rest my time out here. Time to see what this city has to offer, flying solo!