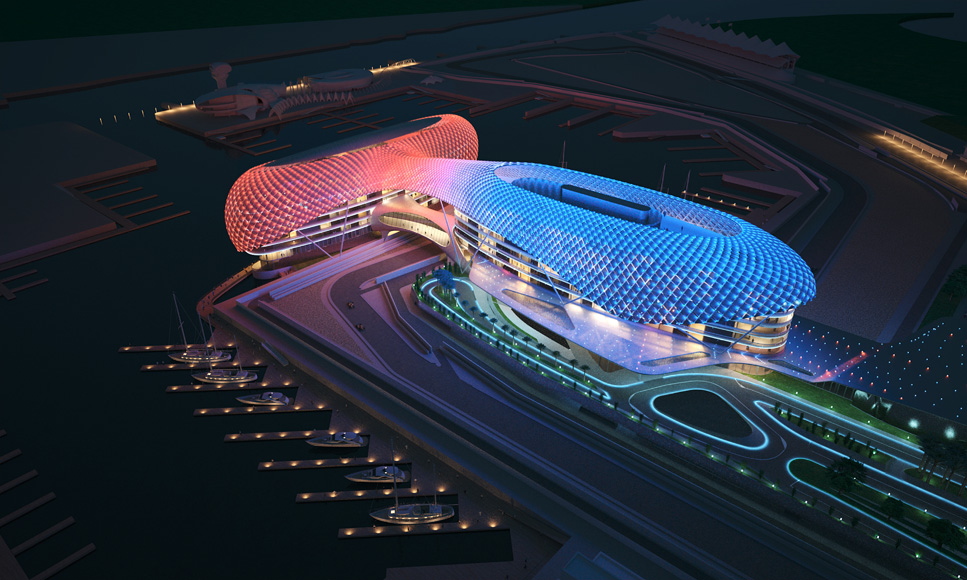 Yas Island, located off the coast of beautiful Abu Dhabi is one of the worlds few man made islands in existence. With plans of designing the island for pure leisure and shopping purposes has stretched the massive budget to nearly $40 billion dollars. Concepts have been discussed and plans are being designed for the island paradise to be fully operational nearing 2018. However, among the few major attractions on this island, perhaps the largest and arguably most gorgeous is also a man made structure. The Yas Marina Circuit is one of only two Formula One Grand Prix tracks in the middle east (second to Bahrain) but stands alone in terms of sheer size and technology.
With a seated capacity nearing 50,000 and stretching over 5.5 kilometers in length, the Yas Marina Circuit takes up a large majority of the entire Yas Island. The intricate 21 twists and turns slice through the city scape passing by the marina, through the Yas Viceroy Abu Dhabi Hotel and winds through rolling sand dunes complete with numerous long straight aways sharp corners. Imported from Bayston Hill quarry in Shropshire, England is the venue's track surface made of the sports top of the line Graywacke aggregate, highly regarded for its incredible grip and dexterity.
Comprised of five grandstand areas: Main Grandstand, West Grandstand, North Grandstand, South Grandstand and Marina Grandstand, the fans will constantly be atop the high speed action. Edgy design concepts include a pit exit located under ground, team buildings, pit crew buildings, media center, dragster track, V.I.P tower and world famous Ferrari World Theme Park. The marina based venue is much more than an iconic Grand Prix circuit, featuring a full sized water park, residential areas, hotels and beaches.
While the large circuit lap record is held by Germany's Sebastian Vettel and short track lap record by France's Charles pic, the venue holds another remarkable structural record. The track is complete with a permanent lighting system provided by renowned Musco Lighting that also provided a similar system to the Losail Circuit in Qatar. Upon completion the massive island circuit structure surpasses the Qatar track as the world's largest permanent lighting project in the world.
Attractions and Activities:
Yas Beach which offers a fully licensed bar and light food options for guests is a beach bum's paradise . The adventurous can book eco-tours of the mangroves, while stand-up paddle boards and kayaks are also available for rental. Yas Viceroy guests can avail of complimentary transfers and access to Yas Beach.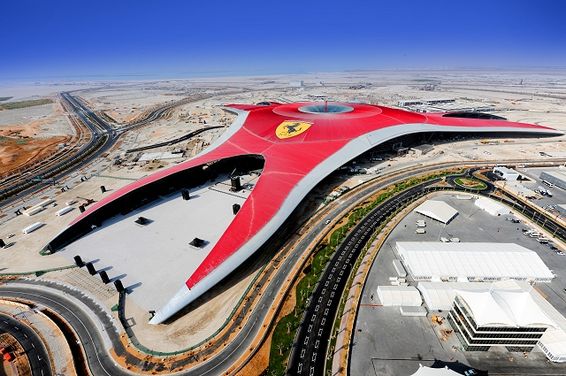 Ferrari World Abu Dhabi (above) is the first and only Ferrari-branded theme park in the world and also boasts being the world's largest indoor theme park. It features high-adrenaline rides including the world's fastest roller coaster, family-friendly attractions, state-of-the-art simulators, live shows, an inspiring treasure of racing memorabilia
Yas Links Golf Course – Challenge yourself on the championship Yas Links Golf Course, the first links golf course in the Middle East. Enjoy the floodlit Par 3 Academy Course with practice facilities, PGA Teaching Professionals, Clubhouse, award-winning restaurants and so much more, all set against dramatic backdrop of the Arabian Gulf.
Yas Marina is located within the heart of the Yas Marina Circuit track and Yas Viceroy Abu Dhabi, Yas Marina is every sailor's dream come true. The beautiful marina has 175 berths catering for boats from 8m to 150m, including boats which are available for charter and scenic cruises.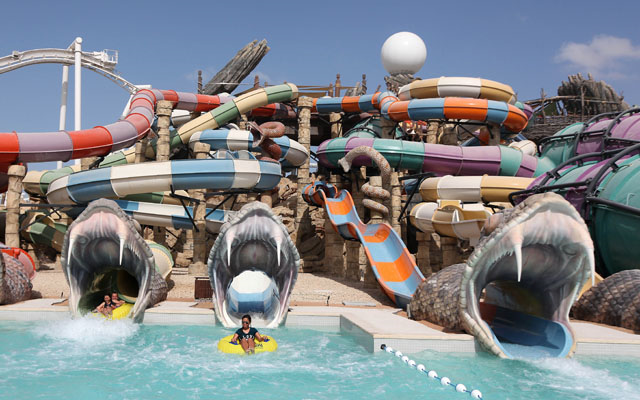 Yas Waterworld (above) is the UAE's first mega water park, Yas Waterworld Abu Dhabi brings together 43 rides, slides and record-breaking attractions in an exciting destination that's perfect for individual adventures, fun and family experiences.
Seawings is a breathtaking seaplane excursion across Abu Dhabi with a thrilling water take-off and landing at Yas Marina, whilst you soak in panoramic views of the capital city's iconic architecture and stunning landscape. Or get on board a 40-minute aerial trip from Abu Dhabi to the pearl of the Gulf, Dubai. Soar across the magnificent Yas Island and enjoy unforgettable aerial views of both emirates.
Gateway Park, the perfect outdoor destination to take a stroll in the beautifully manicured park equipped with public amenities and spacious lawns or let the kids run around and climb and explore the jungle gyms. Spend the day outside to refresh, reconnect and recharge.