Hey gang it's been over a week so I thought I would clue you in on what I have been doing while in Berlin (the coolest being hitting up beach bars). First, let me just say that you must throw away any preconceived notions that you may have about Germany because this city looks more like Brooklyn than it does the palatial city of yesteryear. There is a vibrant street culture here that I definitely do not blend in with but I don't mind being an outsider.
Although I'm heavily engrossed in the beach bar scene our here, I still managed to find time to look into holiday deals in Croatia. One of my rules about traveling that I've always managed to maintain, always be looking ahead to the next adventure. So while I got cozy at a beach bar that had wifi, I already started daydreaming about what's next.
I met up with a friend of a friend that lives in Berlin and she took me to some bars that were off the beaten track. I even got to watch some live music. Of the bars that we went to I have to say that my favorite was one in Friedrichshain that is lovingly referred to as a "beach bar". Basically they ship in some sand and they have a Hawaiian themed bar in front of this river and everybody pretends that they are in a tropical wonderland for a little bit. It was funny to see the contrast of the tropical rum drinks and décor paired with the grey concrete that blankets all of Berlin.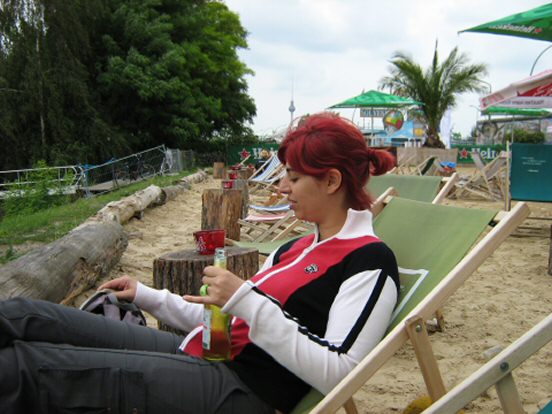 We also visited a small bar that I believe is called YAAM or at least that is what was spray painted on the outside of the building where we swilled some whiskey and beer. My companions name was Meredith, she is living in the city part time to help open up her company's office in Berlin. They needed somebody to train the new staff that was fluent in German. Meredith tells me that the city can get a bit overwhelming especially for a German speaking American woman but overall she has enjoyed her time. We parted ways and I spent the next couple days just relaxing near my bungalow. I had to work pretty much all day Wednesday because I slacked on Tuesday so I ran down to a small café with internet access and sipped coffee all day while I did some client work and wrote my proposal for the big meeting on Saturday.