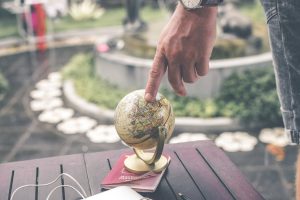 Landing a well-paid job once you've finished university can be tough — so many prospective students are postponing education in favour of a gap year travelling the world and experiencing new cultures.
Long gone are the good ol' days of graduates strolling into positions replete with unlimited prospects and hefty salaries to match. Instead, according to official figures, the number of new graduates taking up 'menial' jobs has nearly doubled in the last six years.
Although you may sail through three or four years of higher education without a care in the world, the reality of the modern job market can leave you yearning for a lifetime of essay writing, especially after a year of globetrotting.
The good news, however, is that the graduate unemployment rate among grads completing their first degree was 5.3% in 2016 (the most recent data)—although the figures from the Destination of Leavers from Higher Education (DLHE) only consider graduates six months after graduating.
Studying while you travel
Even better news is that you can study for a degree remotely via distance learning during your travels. Reputable institutions such as Anglia Ruskin Distance Learning have accommodated students from all over the world, so you'd be in great company.
But before you commit, it's worthwhile taking the time to recognise the subjects with the most vocational value. After all, isn't that the whole point of a degree …?
Accounting and Finance
They say that a fool and his money are soon parted — so helping those in need of economic enlightenment with an Accounting and Finance degree is a good choice. Accounting grads are well-equipped to deal with the increasingly competitive job market, with work placements and internships offering students invaluable workplace experience.
Business and Administration
If it's your desire to make a name for yourself in the City, pick a Business and Administration degree. Many graduates in London's financial district are armed with a degree in this subject area, with a large percentage of graduates securing work within six months of finishing university.
Medicine and Dentistry
It's safe to say that folk will always need doctors and dentists—which is why 99.4 per cent of all students graduating in those fields find a job, or enrol for further study, within six months of qualifying. Admittedly, the levels of dedication required to make it in the medical industry means those who don't fall by the wayside are often well deserving of their positions.
Education
As long as there are people willing to learn, there will be educators there to teach them. Consequently, those graduating with a qualification in education are in high demand, with a large majority going on to secure a teaching position almost immediately after leaving college or university.
Law
For those looking for a degree subject that almost guarantees employment, law has always been a safe option. With plenty of criminals seeking assistance to get off the hook, legal brains are highly sought after. Although the majority of law graduates go on to find immediate employment, a large number opt for further study to bolster their existing qualifications.