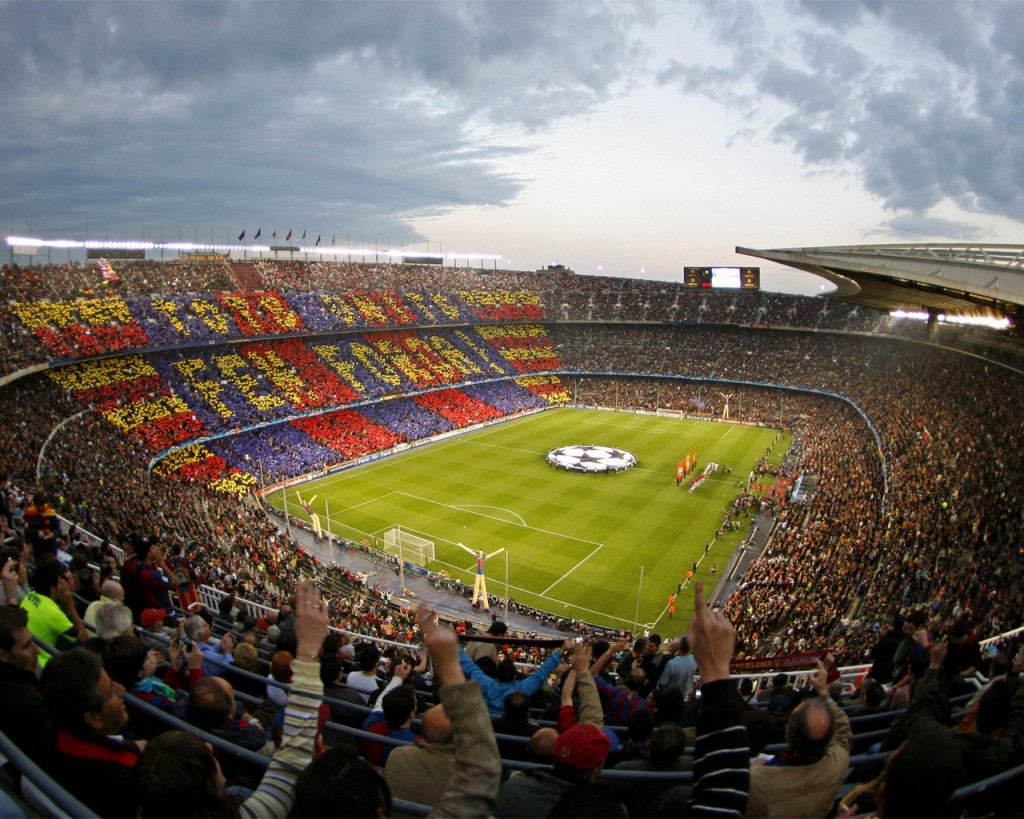 The largest football stadium in Europe, with a capacity of 98,772 and home to the FC Barcelona club, Nou Camp boast some of the most energetic fans in all of Europe. If you are lucky enough to see a match between FC Barcelona and their rivals Real Madrid you are in for an electric experience.
The massive stadium has hosted two UEFA Champions League Finals and the football competition at the 1992 Summer Olympics. The stadium also host large musical concerts including Julio Iglesias, Bruce Springsteen, Sting, and Peter Gabriel.
Here is Vagabond Summer's Camp Nou Stadium Profile
How to get to Barcelona FC Stadium
Metro: Maria Cristina (Green Line, L3)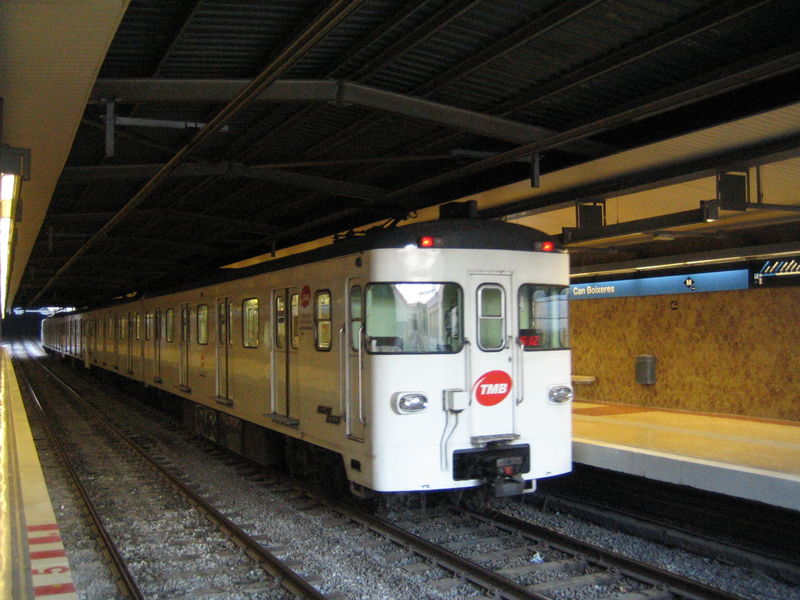 After you exit the metro station turn left and walk northwest up Avenida Diagonal. You will pass by the 'La Caixa' building which is hard to miss as it is an enormous black skyscraper. Keep walking until you see another skyscraper -the Princess Sofia Gran Hotel.
Once you have passed the hotel, take your first left and you will see the stadium right in front of you. Check your tickets to see which gate you should access. If you are at the stadium for a reason outside of a football match then head to Access 9- this is the main entrance and you will find a ticket desk.
Buses to Camp Nou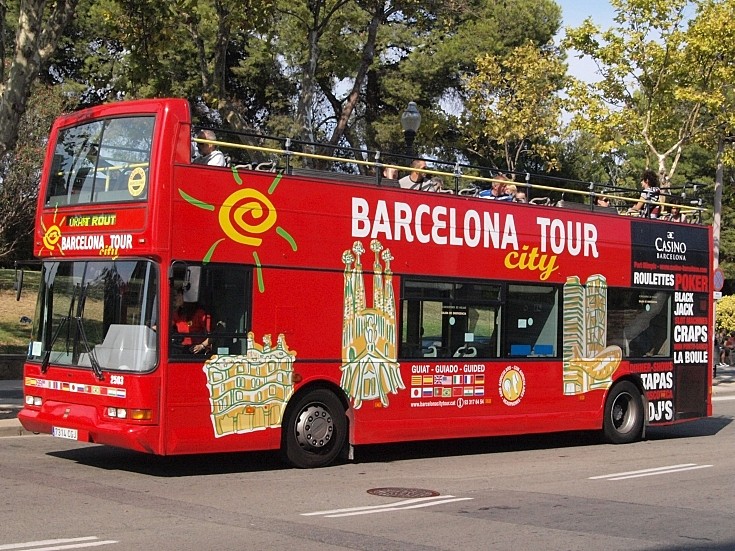 There are several bus lines that stop close to the Stadium. There are 16 buses on the TMB, one AMB line, and four Nitbus lines. The TMB lines 15, 43 and 56 typically ramp up service during both a game and other events depending on the demand that might occur. In addition, to the public transportation there are also open top tour buses that include Barcelona FC on their route.
Barcelona Bus Tours are described as "Hop on and hop off sightseeing tourist buses." Basically, the buses run on a route throughout the city visiting different tourist attractions. You can get off the bus at anytime , go sight seeing and when you are finished you just wait for the next bus and move on to the next spot. This might not be the best option if you are heading to the stadium to see a match but if you are simply visiting the museum this could be your best bet! Bus tours typically cost €23.00
You might also want to check out some of the city's World Heritage Sites, such as Casa Milà, Hospital de Sant Pau, Sagrada Família during your exotic trip to Barcelona, as tours are available to each of these sites. A tour of the Barri Gòtic, which is the center of the old city, will allow you to explore a number of medieval buildings that are still standing to this day. If you are looking for a little relaxation before heading to the stadium, a visit of one of the seven beaches within city limits is a great way to spend a day in the sun.
Taxi
If you don't to worry about the hustle and bustle of tramway, Metro, or buses and you are close enough to the stadium you might want to simply hail or order a taxi. Taxis in Spain  are a bit more aggressive than the ones in the States so be wary!
Food in and around Camp Nou Stadium
Food within the Stadium
There are only two places to eat within the stadium but unlike in the U.S. you can actually bring your own food and have a picnic. Let me tell you there is nothing like munching on a sandwich within the stadium while enjoying a nice cold beer. Here are the two options within the stadium where you can snag a hot dog on warm bun.
Pans and Company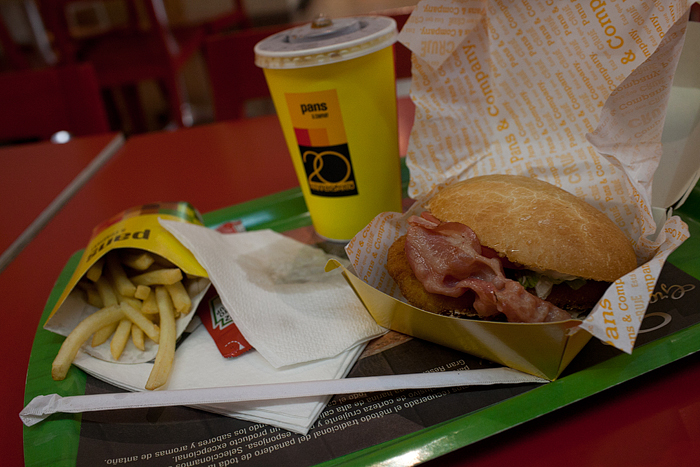 Located near the main entrance at Access 9 there is a fast food restaurant called Pans and Company. This is a Spanish chain akin to Subway that serves up both hot dogs and traditional submarine sandwiches on a baguette. You can order a meal deal with a sandwich, fries and a drink at just under  €9.00.
La Carpa (FCB Bar)
Located at the center of the stadium FC Barcelona's own team bar is available with outside seating. La Carpa sells similar fare to Pans & Company- hot and cold submarine sandwiches, hamburgers, pizza, and soft drinks. Sandwiches cost just under  €5.00 but it's nothing to write home about.
Restaurants near Camp Nou Stadium
If you know anything about Barcelona then you know that it is a bastion of impeccable cuisine. From fresh seafood restuarantes to small street vendors Barcelona is a destination for delicious food. Here are a couple restaurants near Camp Nou Stadium.
Casa Jacinta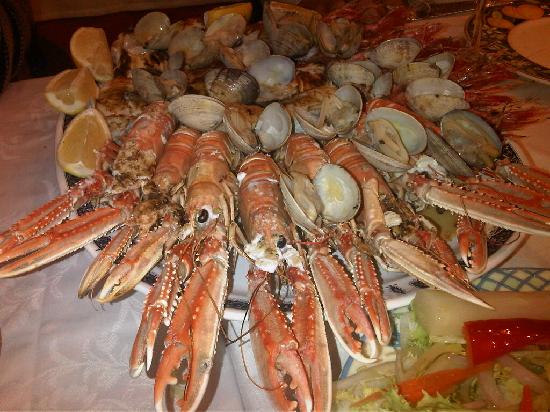 Just a few blocks from the Stadium Casa Jacinta has a menu that highlights the superb seafood that Barcelona has to offer. Combining the best of traditional Catalan and Navarre cuisine. The menu is a bit pricey but the atmosphere and clientele make it all worth it. Casa Jacinta serves a bevvy of footballers and executive who revel in the restaurants fish and meat dishes.
Indian Shanti Restaurant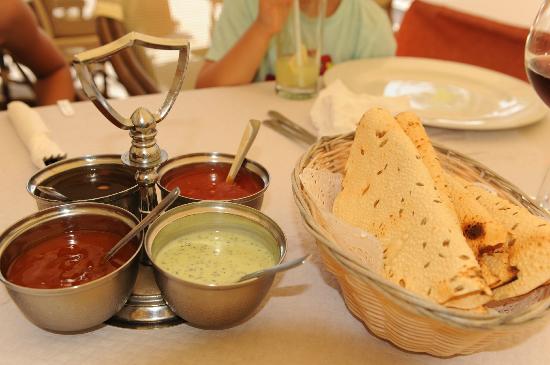 Like I said before Barcelona is a hub for all types of cuisine not simply Spanish food. Indian Shanti serves traditional Indian dishes like paneer, vindaloo, and korma with basmati rice. The atmosphere is quaint and the restaurant only seats about 40 people so  try to avoid going in a large group. Solid curries and delicious goat. Also, if you are a fan of seafood their prawn Rogan Josh.
Andele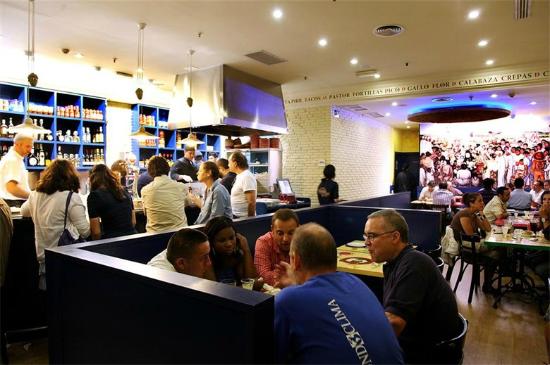 Mexican food in Spain? You betcha but this isn't the tacos and burritos that you are used to picking up at your local taco shack. Andele serves up authentic Mexican food such as enchiladas in a chocolate Mole sauce. Don't be confused Mole is in no way sweet. The restaurant serves up beer and even has a small market so you can take home so food with you or even to a match.
Restaurant Neichel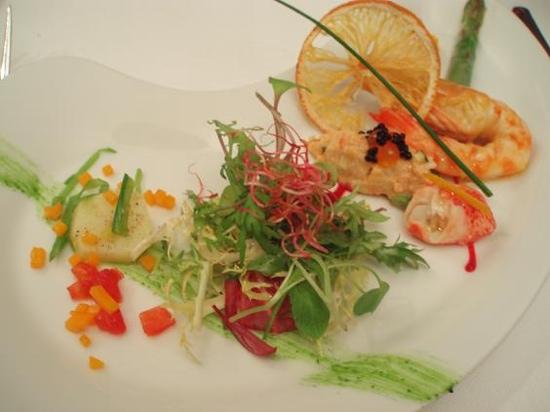 A high-end restaurant that has an elegant ever-changing tasting menu. Some of the most inventive and gourmet cuisine near the stadium Restaurant Neichel boasts a classy modern dining area complete with a robust wine menu. The menu changes on nearly a daily basis and is crafted by their head chef  Jean-Louis Neichel who uses only the finest ingredients from Barcelona. The cuisine is quite expensive but well worth it for a romantic evening in Spain with a loved one.
Hotels Near Camp Nous Stadium
Apartamentos Turisticos Madanis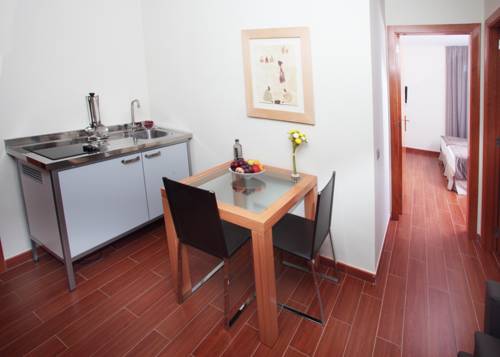 Adjacent to the stadium Apartamentos Turisticos Madanis are full on apartments that can be rented out by tourists in the area. Each apartment features free Wi-Fi and a flat screen TV. The rooms are affordable for all of the accommodations including a kitchenette with a stove and sinks.  The hotel has full bar at the Madanis M-Bar which serves cocktails, beer, coffee and tea. If you are looking to be close to the stadium there is no better choice than the Apartamentos Madanis.
Catalonia Rigoletto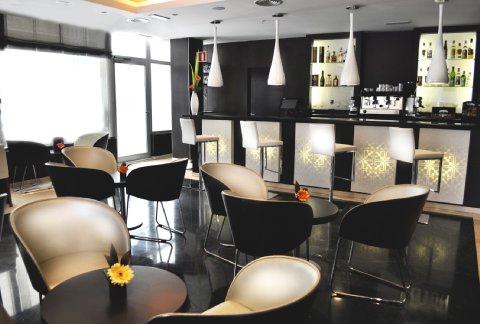 Elegant and modern Catalonia Rigoletto is just over a half mile away from the stadium. Beautiful hard wood floors and a continental breakfast buffet with fresh fruit, cereal and cooked breakfasts. Large bathrooms and comfortable beds make Catalonia Rigoletto a wonderful experiences for both couples and families. The hotel also has a gym that patrons can use should they want to work off some of the food they enjoyed during their stay.
Alcam Futbol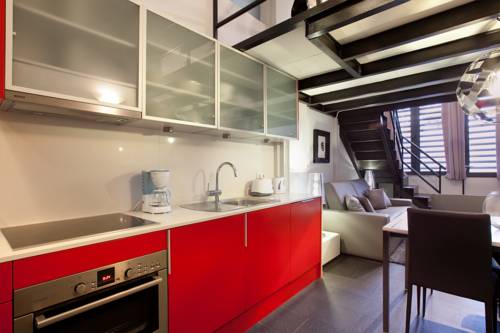 Just over a quarter mile from FC Barcelona's Camp Nou Stadium Alcam Futbol is a football fans dream. The stylish modern apartments have soccer-themed decor with free wireless internet, air conditioning, and well equipped kitchens. The kitchen includes a stove, oven, microwave and coffee maker as well as a dishwasher and washing machine. The apartment complex is a 2 minute walk from the Metro Station which offers direct service to central Barcelona.
Casa Fuster G.L Monumento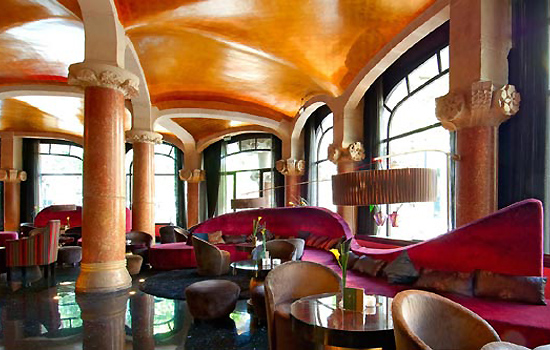 This palatial and iconic building is a bit further from the stadium but if you are looking for a truly luxurious experience in Barcelona this is the hotel for you. Located on Barcelona's chic Passeig de Gracia Avenue, Casa Fuster G.L Monumento was built in 1908 by Modernist architect Lluis Domenich i Montaner. The resort has all of the amenities of a standard hotel but also includes a sauna, a gym, and rooftop terrace with an incredible view of Barcelona skyline. Each room has satellite TV and a minibar some rooms have a romantic hydro-massage bathtub.