So I was just hanging out in Chicago for the weekend to see my brother perform in an improv show with some of his buddies from college. Now I haven't been out to Chicago in a long time but I have a lot of friends from Arizona who moved out there to work for a small little internet start-up. The show is tomorrow night and my brother is under 21 so I decided today would be a good day to meet up with some of my old chums and add some spice to my life.
We grabbed some drinks around town and then we went to a place that is like no other it's called Cheesies and it's a place that sells only grilled cheese sandwiches. Cheesies has a great menu that features your standard grilled cheese sandwich but also some really crazy combinations. There is the Cheesies Caprese which is Texas toast with mozzarella, tomato, and basil. There is the Cheesies Mac which is cheddar cheese, and macaroni and cheese on Texas toast.
There is cheesies mexican style sandwich, one with hot wings, and another is jalepeno poppers. They also just rolled out their pizza's which are almost as good as the grilled cheese sandwiches. The pizza's have the same variety as the grilled cheese sandwiches. I didn't get a chance to try any of the specialty pizzas but I did get the opportunity to taste the straight cheese pizza. It was scrumptiously greasy and the cheese was super tasty.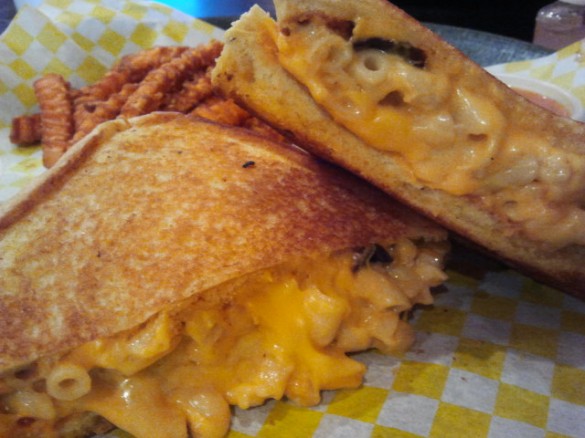 Cheesies Bar
I didn't even get a chance to talk about the best part about Cheesies. The drinks, oh the drinks, they have one of the best drink specials in the city. They have a $4 happy hour all of the time. This means that every drink on the menu is $4. You can get a $4 Maker's Mark or a $4 Pabst Blue Ribbon.
They have a great draft selection and the staff I'm told is usually very friendly.  When we were there they were in the midst of a huge a groupon misstep the bar was packed with people who had simply purchased the groupon and they were not tipping the bartenders. Aside from an agitated wait staff my experience was great. I think I am going to head back on Sunday for their Cheesies Slumber Party which is 20 dollars for bottomless mimosas.