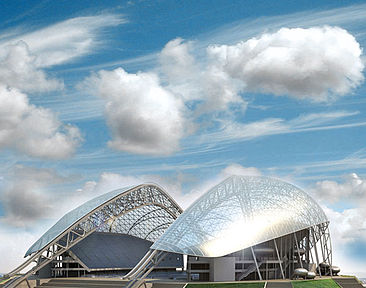 In preparation for the 2014 Winter Olympics in Sochi Russia, architectural firm Populous, along with UK design consultancy Buro Happold, has designed and built the Fisht Olympic Stadium, with an estimated cost of over $600,000,000.
Named after Mount Fisht, one of the largest peaks in the Western Caucasus mountains in Adygea Russia, Fisht Olympic Stadium will fit a total 40,000 people and is designed like a shell representing the art of the House of Faberge, a jewelry firm founded in St. Petersburg, Imperial Russia in 1842.
The translucent polycarbonate roof is meant to give the building a replicated appearance of snowy mountains, suiting for both the location and the season of the Olympic Games.
The walls and roof of the stadium consist of one continuous glass surface that have been designed to reflect the sunlight off of the sea throughout the daytime of the Olympic games. The stadium's northern opening gives attendees a direct view of the Krasnaya Polyana Mountains, while the southern opening allows for an incredible view of the Black Sea.
The primary use of the Fisht Olympic Stadium will be to host both the opening and closing ceremonies, as well as most medal ceremonies.
When the 2014 Olympic and Paralympic Games come to a close, the Fisht Olympic Stadium will be used as a training facility and match venue for the Russian National Football team, as well as a multi-purpose sports and entertainment facility.