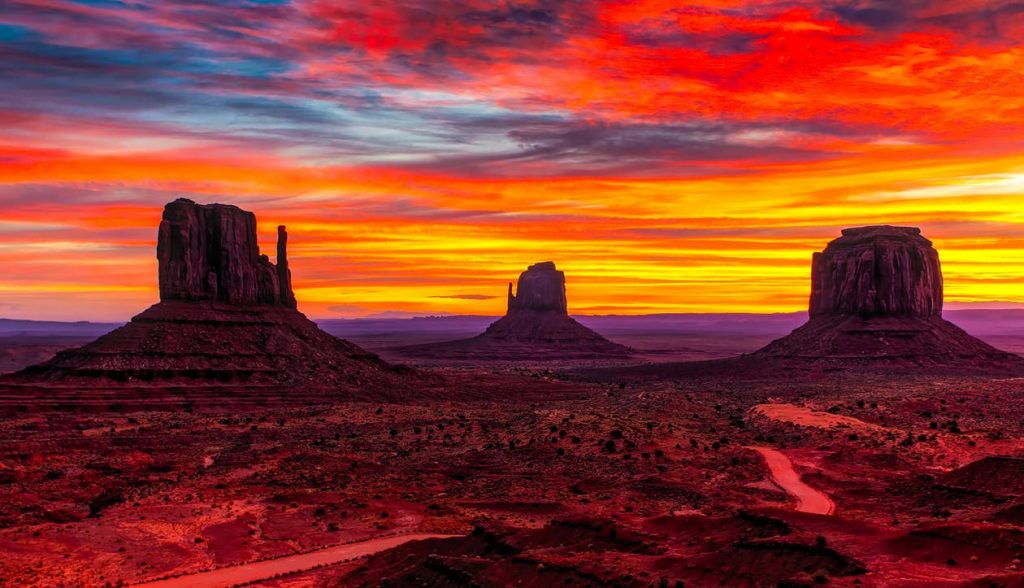 Certain states in the US provide a greater variety in nature-focused locations for outdoorsmen to explore than others. If you have some free time coming up and are looking for a place to visit that brings you close to nature, then we recommend booking a vacation in Arizona, which is not short on options for a good time in the wild.
The locations on the list below come with their own environments. You'll be able to choose from canyons at different heights for hikers and climbers, mountains full of trees and other plant life, and valleys that are filled with beautiful bodies of water. Here are places that outdoorsmen should take time to visit in Arizona.
Monument Valley
If you're looking for places in Arizona that you've seen in calendars and other photos in countless stores, then you'll want to check out Monument Valley. This spot is filled with sandstone buttes that tower over all other formations and are beautiful when the sun is rising or setting around them.
There are plenty of Monument Valley tours with guides that will educate you on how structures have formed and animals survive in the area. They will take you through sand dunes, jagged rocks, stone spires, and other areas that will make great additions to your photo collection.
Grand Canyon
When it comes to locations that make states popular, the Grand Canyon fits the bill for Arizona. This national park provides countless points for visitors to take in views of the Colorado River, color cliff walls, and ravines filled with trees and water.
The morning and later afternoon are the best times to stop by the canyon, as the sun rising and setting creates hues of red, orange, yellow, brown, and other colors, which only adds to the scenery. Education centers are also available if you want to learn how this area was used throughout history.
Sedona
If you prefer to venture off to areas of the outdoors filled with mountains, then spending a weekend at Sedona will suit you very well. The red rock mountains and buttes combined with the woods below make for great hiking spots and provide views from both the bottom and the top of the points.
Biking trails are available through the range so that you can get some exercise, but you can also take Jeep tours if you want to cover as much ground as possible. This spot is also popular because of the ancient Native American dwellings that are spread out throughout the area.
Havasu Falls
Some of the most beautiful places to visit throughout the world are usually the most remote. That's the case with Havasu Falls, which is located in the Grand Canyon and is known for its waterfalls that connect to scenic pools filled with clear water with tints of blue and green.
Visitors can access these falls through a variety of avenues, including horseback, mules, helicopters or long hikes if you want to get a workout in. The swimming pools below the falls will be much more relaxing if you decided to hike here, and the red canyon falls add to the color of the scenery.
Antelope Canyon
Another canyon you can check out is Antelope Canyon, which gives you more of a unique setting to explore inside than outside. The walls of the canyon will make you feel like you're in a painting, and the light that beams in from outside only makes it more photo-worthy.
The appearance of the formations is due to water running through limestone, granite, basalt, sandstone and other types of rocks. While this canyon got its name from the pronghorn antelope that called it home, you will have better luck running into other forms of wildlife today.
Flagstaff
Some outdoorsmen prefer to spend their adventures in locations filled with trees rather than rock formations. If that's the case with you and you need a break from canyons, Flagstaff will treat you with grass fields to walk through and hiking trails through mountains covered in trees.
It's best to stop by Flagstaff between September and November so that you can avoid the summer crowds and enjoy changes in colors in the fields and mountains. If you decide to visit during the winter, there are plenty of ski slopes available so that you can still have fun. The downtown and railroad district are fun if you're looking for souvenirs.
Barringer Crater
Despite the destruction they bring, meteors are responsible for some of the most scenic locations in the world. When it comes to Arizona, Barringer Crater brings in tourists from around the world because of the space and features it presents as a meteor crater.
The crater is 4,100 ft. wide and 570 ft. deep, giving you plenty of space to explore. Guides are located at different points so that you can learn about discoveries about the crater made by scientists throughout the years relating to how it formed and landed on Earth. Pictures from different points of the crater will always make for a beautiful image.
Keep these locations in mind so that you can explore the best that Arizona has to offer.