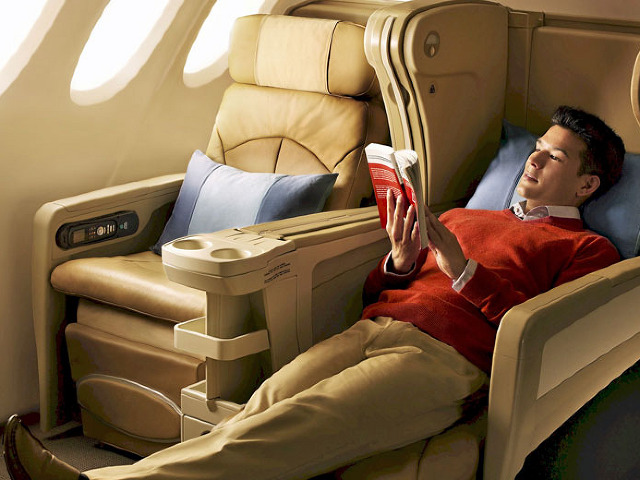 There's a reason air travel is seen as a hassle, a last resort, an uncomfortably full sardine can of upset passengers that regardless of defying gravity… dread flying. Often times it isn't the fear of a plummeting death or even the cost, but more practically the convenience and comfort passengers put into question when considering air travel. This is a new height in luxury travel.
This October, Singapore Airlines unveils their newest product in the form of a luxurious Boeing 777-300ER that undoubtedly places them among the best airlines in the world. The impressive finished product is set to debut in a Singapore to London Heathrow flight in the coming month but is merely one of its kind released prior to its duplication promised in 2014. Akbar Al Baker, CEO of top ranked Qatar Airways ensures, "There is a growing market of air travelers who are unwilling to sacrifice comfort while flying — especially on long-haul flights." He says the airline emphasizes "designing the best flying experience, including the most comfortable cabin interiors."
Happy to surpass needs and wants of luxury air travel, Singapore Airlines combines technology and practicality in their top to bottom revamp of their already renowned carriers. Among the pivotal upgrades the Boeing 777-300ER will feature are:
– Completely redesigned seats in first, business and coach classes.
– Pod-like seats in first class and business class seats that convert to what the airline claims is the "industry's widest full-flat bed." BMW subsidiary DesignworksUSA helped design the new first-class cabin.
– A revamped in-flight entertainment system with more content and options for premium customers to use their own devices via options such as HDMI or USB ports.
– Enlarged seat-back monitors for passengers, measuring 24 inches in first, 18 inches in business and 11.1 inches in economy.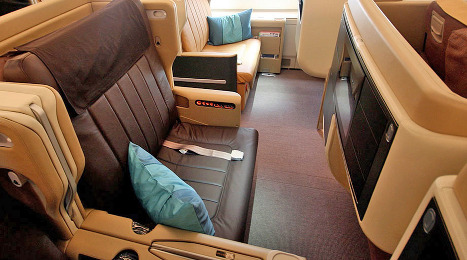 Alan Bender, professor of aeronautics at Embry-Riddle Aeronautical University, expressed that "Business travel is on the upswing, and passengers appear more willing than ever to pay for premium classes of service, particularly on long flights such as those Singapore operates." Bender also places the stylish new Singapore Airlines product among luxurious company, in his professional opinion joining Cathay Pacific and the Emirates in the top three best airlines in the world.
The multimillion dollar project, while impressive, begs the question of passenger awareness. Do they even care about upgrades? Professor Bender explains, "A plane is a plane to many people — perhaps most people, but in the rarified world of platinum and diamond fliers, many passengers do notice. Since Singapore operates many of the longest flights in the world, passengers have plenty of time to notice absolutely everything around them."
Singapore Airlines spokesman James Bradbury-Boyd notes that while effectively raising the bar in luxury air travel, "We're already working on our next product." The strive for perfection never rests in an industry where the sky is not the limit and technological advancements are forever at our fingertips. Until then, in a league of their own, it is Singapore Airlines: The New Height of Luxury.