When you plan your wedding you can build it up to almost sacred proportions. However, there is nothing wrong with hoping that your honeymoon is even better. We pulled together a list of 10 must-visit honeymoon hotspots from around the world. Make sure to book a reservation for after your Big Day in order to start your new marriage right!
10. The Bellagio Hotel – Las Vegas, Nevada.
Do you and your significant other want a little bit of American made excitement on your honeymoon? The Bellagio Hotel is the place to stay in Vegas if you are looking for gourmet food, beautiful rooms, and proximity to a thrilling nightlife.
9. The Maldives.
The Maldives mixes tropical flare with high class luxury in order to give visitors the best of both worlds. There are some beautiful honeymoon resorts in the Maldives that are lined across the Indian Ocean, making it the perfect spot for the couple that wants to hit the beach or dive under the waves as soon as they wake up. If you don't mind skipping New Year's Eve with the family, the Maldives is at its best in terms of weather during this part of the year.
8. Aruba.
The perfect honeymoon should leave you feeling refreshed and completely relaxed during your stay, and this is exactly what you can get when visiting Aruba. The possibilities for relaxation are endless, whether you're living up a life of luxury in a hotel or if you decide to go for a day at the beach. At night you can get away from relaxation and head to the nearby clubs and casinos.
7. Serengeti National Park – Tanzania.
If you want a life changing honeymoon, then consider heading to the Serengeti National Park in Tanzania. The Serengeti National park is filled to the brim with gorgeous resorts like the Four Seasons Safari Lodge and that means you'll always have a pool and cold drink nearby. Otherwise you can spend time soaking in the majestic wild elephants that routinely visit the watering hole right in front of your room.  We suggest going mid-July to avoid the rainy season.
6. Cipriani – Venice, Italy.
Italy is the place to go for the honeymooning couple and Cipriani, a hotel located in Venice, should be at the top of your list. You'll be brought to the hotel by way of private boat and you'll be blown away by the classic luxurious decor of your room. An Olympic sized pool awaits outside of your room and the nearby vineyard will keep you well stocked on evening libations.
5. Lake Louise, Canada.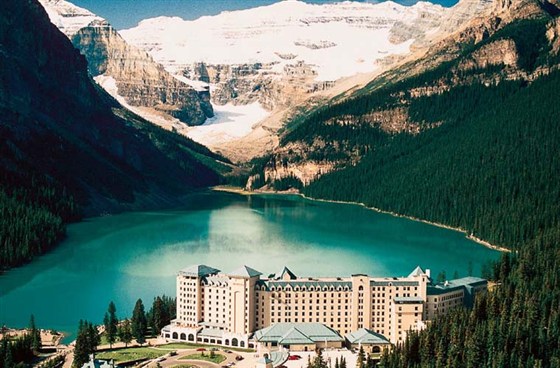 If you're looking for an adventurous honeymoon, then Lake Louise in Canada would be the perfect spot. You may want to take advantage of all the available winter sports: snowboarding, skiing, ice skating and more, or you can take in the beautiful woods, the mountain views, and the scenic walk around the lake. If you go during the warmer months, then spend time horseback riding or hitting the rapids with some white water rafting adventures.
4. Elephant Hills Rainforest Camp – Cheow Larn Lake, Thailand
Asia is replete with gorgeous honeymoon destinations but none will put you in a different world quite like the Elephant Hills Rainforest Camp. This resort is located off of Cheow Larn Lake in Thailand and it is the only floating hotel in the country. You'll be on the border of the Khao Sok National Park and just minutes away from seeing gorgeous elephants as well as the country's natural flora and fauna.
3. Florence, Italy.
Florence, Italy is romantic enough in architecture that you and your love will be swept up with almost every site you see. Considering most honeymooners head off to Rome or Venice, Florence should feel positively roomy during your stay.
2. Amankila – Bali, Indonesia.
Bali isn't exactly the newest kid on the block when it comes to travelers, but we guarantee that you probably haven't spent time at the Amankila. Amankila is a gorgeous resort located on the island of Bali. From your room you'll see the ocean, the Lombok Strait, and even East Bali. The grounds surrounding the Amankila resort are steeped in religious temples and other cultural milestones.
1.  Loisaba – Kenya.



If you want to break away from some of the more traditional honeymoon hotspots, then Kenya is the definitive choice. You can take safari rides and tours looking out at the vast plains of wildlife that culminate in the rocky Mount Kenya, dominating the background. Not only this, but you could get an unforgettable view of the stars above and guided tours via horseback, which are as romantic as they are adventurous.
So, if you're planning a honeymoon then I greatly recommend taking a look into each of these top 10 honeymoon holiday hotspots. Whether you're looking for sun, relaxation, adventure or simplicity – you're going to be guaranteed a perfect start to your life as a married couple in any of these destinations.