Traveling as we know is one of life's many pleasures. The new sights, sounds, and even tastes, are all reason enough. However, if you're struggling to maintain your personal finances, then traveling can be quite expensive. For those on a strict budget though, Turkey offers a phenomenal traveling experience. Turkey tourism is a mecca of both history and beautiful scenic landscape and successfully meshed the two elements for a country overflowing with photo worthy attractions. For anyone to visit these jaw dropping marvels would be any tourist's true "Turkish Delight".
1. Hagia Sophia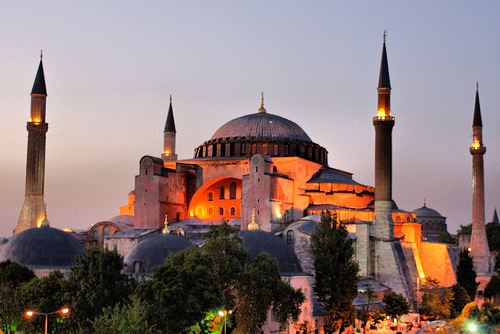 It is a big meets beautiful structure with massive amounts of history sprinkled in the foundation and a story within every brick. Fully translated to English, Hagia Sophia means "Shrine of the Holy God" and with the mindful combination of architect, scientist and physicist the once shrine embodies much more than that. Constructed in the early Sixth Century by Roman engineering, the massive dome was the once world's largest enclosed space covering more than 100 feet in diameter. After being looted by Fourth Crusaders in 1204 and later turned to a mosque in the 15th Century by the conquering Ottoman Empire, it was converted to a museum in 1935. With exceptional size and elegance the Hagia Sophia inspired many more historical structures to be built with high hopes to imitate and very few to over take in beauty.
2. Pamukkale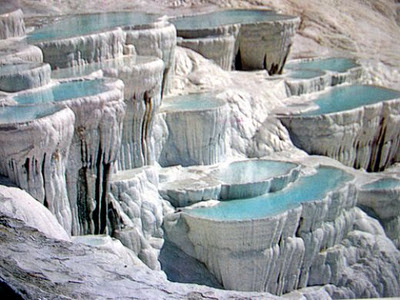 Translated in Turkish to mean "cotton castle", Pamukkale is both vast and breathtaking. Made up of 17 hot water springs and covering over 1,000 feet, the white springs and terraces are made up of a mixture of mineral deposits and sedimentary rock mixtures to create Tavertine. Originally a famous Roman Bath cite, Pamukkale was home of the ancient Greek city Heirapolis built by the king of Pergamon. In the early 20th century the temple and city ruins as well as the springs themselves were almost destroyed by constant hotel construction around the area. Finally the site was dubbed an Archeological Museum in 1984 and labeled a World Heritage Site in 1988 to preserve the remaining ruins. Once the hotels were demolished and roads removed, Pamukkale is still atop the main tourist attractions in the world with heightened seclusion and natural preservation.
Thinking about visiting Turkey? You can do it on a budget by applying for a Turkey visa online.