Traveling around the UK is something that many people who actually live here don't often think about doing. It's partly because there's a perception that, for the same amount of money, they could go somewhere more exotic, and partly because for people who've traveled a lot, some British hotels and B&B's can feel a little… cramped! That's understandable; the UK is a crowded place, and space is expensive.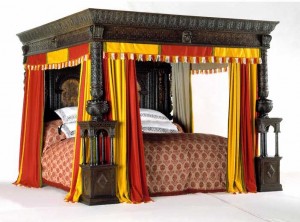 But if you've become used to big, foreign rooms with huge, comfortable beds, don't give up on the UK just yet! There are plenty of places to stay with space to stretch out. When you get home from those below, you might even find your own bed is no longer luxurious enough; you can recreate your new-found level of comfort with Bedstar's king size beds. They'll even take your old one away…
Cornwall
Let's start with a classic British holiday destination; Cornwall. The area surrounding The Scarlet Hotel includes some truly breathtaking scenery, and after a day swimming and walking around the Bedruthan Steps area, you'll appreciate the huge beds in their "Spacious" and "Indulgent" level rooms. The "Indulgent" suites are the biggest, with great king-size beds and a good-sized lounge. Have a look at the "Spacious" rooms as well if you can, as all have sea views – though not all have king-size beds.
Oxford
North of London next, and visitors to the magical, historic city of Oxford could do a lot worse than booking a couple of nights at the luxurious, modern Ethos Hotel. The top-of-the-range offering here is the SkyLoft Suite, spread over two storeys. There are fantastic views over the city and a gigantic super king size bed, as well as a sofabed on the floor below. If that's booked already, some of the other rooms also have super king beds. The Ethos is situated in a renovated Victorian building just south of the centre.
Loch Ness
A day spent tramping around the Highlands – or searching the loch for Nessie – will certainly make you appreciate the super king beds provided in some (but not all) of the rooms at the Lovat Hotel in Fort Augustus, Inverness-shire. The town is at the southern end of the loch, and the Lovat is close to all the amenities you'll need including boat trips.
Wales
Finally, Wales, and the beautiful Bach y Graig Farmhouse B&B in Tremeirchion, Denbighshire. The building is around 450 years old, and is part of a working farm in wonderful countryside. There are just three rooms, but the nearby fishing, walking and coastal attractions are sure to make you appreciate the massive four-poster beds that are a feature of every room – if not your own bed when you get home!