Known as the "shopping capital" of the middle east and consequently one of the wealthiest countries in the world, Dubai caters to both shoppers and tourists. So why fly to Dubai?
As the second largest city in the United Arab Emirates behind Abu Dhabi, Dubai most notably is adorned for its heightened technology both in its amenities and landscape. While the native police department rolls in government issued Lamborghinis', it doesn't begin to skim the surface of all  that is Dubai.
Home of the largest man-made islands in the world, Dubai's Palm Island trio is a world renowned sight to see. The three islands that make up these Palm Islands are the Palm Jumeirah, Palm Jebel Ali and Palm Deira.
While the Palm Jumeirah is the one and only Island open to the public, its massive man-made sand and rock structure is comprised of hundreds of luxury hotels, water parks and malls. Located in the Persian Gulf, the Palm Jumeirah is in the form of a palm tree trunk and 16 fronds supplying over 4,000 residences ranging from houses, apartments and private villas.
Each island required 7 million cubic meters of rock and 32 million cubic meters of sand acquired mostly from the sea floor with each well placed rock being hand checked by scuba divers for safety approval and assigned geographical coordinates for tracking assurance.
As if the booming marine life surrounding the islands weren't enough, they are also home to the only 7 star hotel in the world, the Burj al-Arab.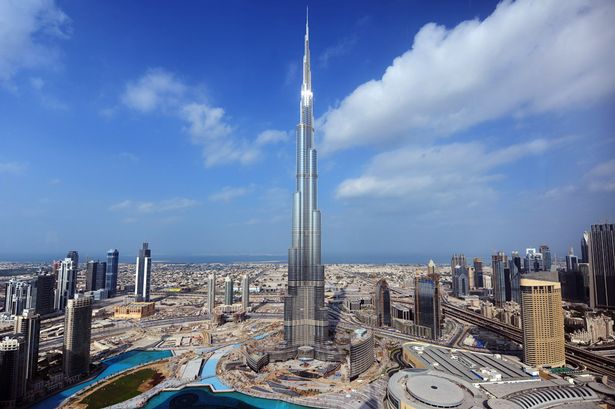 Boastfully holding nearly every world record as a man made structure, the Burj Khalifa stands a staggering 2,716.5 feet tall and with over 160 stories making up the extraordinarily massive free standing structure.
Formerly known as the Burj Dubai, following the worldwide financial collapse that left the tower 70% vacant due to "sky-high" prices for residency. Sheikh Khalifa, ruler of Abu Dhabi, stepped in to provide Dubai with financial debt coinciding with the multi billion dollar building and later appropriately naming the tower after Sheikh Khalifa for his remarkable generosity.
Covering 334,000 square feet of floor area with over 49 office floors and more than a thousand residential spaces, its no wonder why both figuratively and physically Burj Khalifa stands above the competition in beautiful scenic Dubai.